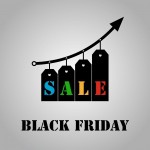 In business being "in the black" is a good thing; it means your business is making a profit (the flip side, "in the red" means your business is taking a loss.)
For this reason, it is understandable that many mistakenly think that the term "Black Friday" was coined to reflect profits retailers earn on sales the day after Thanksgiving (now the biggest shopping day of the year) that put them "in the black."  But this is not even close to the term's true origins.  The term "Black Friday" actually stems from a darker reference that has its beginnings in the disgruntlings of the Philadelphia police department.
The Real Origins Of Black Friday
It all began sometime during the mid-60s (some sources specifically cite 1965; others 1966) when Philadelphia police started referring to the day after Thanksgiving as "Black Friday." Some say this term may have been used by the police in hopes of identifying the day as a "black" day (meaning "bad") that would deter shoppers from heading out in masses.
In Philly, the City of Brotherly Love, the day after Thanksgiving often meant less than cordial interactions when dealing with the city's population.  To police, the Friday after Thanksgiving meant shoppers flooding the streets and overloading the mass transit system to fight over post-turkey-day deals, and it also ushered in the traditional weekend Army-Navy football game.  Philly's finest ended up working overtime or being oncall to deal with the crowds, and so police began using the term "black" Friday with negative connotation.
Retailers had already been heavily promoting sales the day after Thanksgiving long before the term "Black Friday" became associated with the (unofficial) heralding in of the Christmas retail season. At some point in the mid 1970s, retailers grabbed hold of the term and began realigning its meaning to be more business oriented reflecting the positive impact consumers spending like mad shoppers can have on a business and the economy.
Another case of marketing through rebranding.
Related posts: